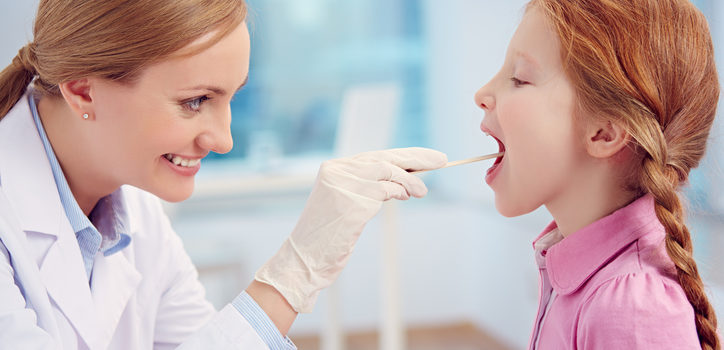 September 30th, 2017 |
General and Preventive Dentistry
|
Comments Off

on Tongue Tie surgery Improves Growth and Development; could prevent TMJ and Sleep Apnea!
Tongue Tie surgery Improves Growth and Development; could prevent TMJ and Sleep Apnea!
Tongue tie surgery can be life altering; it can promote a young person's growth and development.
Ankyloglossia is the medical term for tongue tie — a condition that can be as mild as slightly limiting a tongue's range of motion, to causing speech and swallowing pathologies, underdevelopment of the mouth, and potentially sleep apnea and TMJ problems. Depending on the type of tongue tie, a person may need simple stretching techniques to significant releasing surgeries.
The taut band of tissue just under the tongue may attach high up into the tip of the tongue, causing a small heart shape to form when the tongue is maximally extended upward. At the other end, the tissue may attach deep down into the floor of the mouth (like a class 3 or 4 posterior tongue tie), to the front to middle portion of the floor of the mouth (class a class 2 anterior tongue tie), or to the gum tissue just behind the lower front teeth itself (a class 1 tongue tie).
The problem with a tongue tie from a growth and development standpoint is that the muscles attaching the tongue to the neck and the jaw become overly tightened from disuse. The styloglossus muscle attaches to the temporal bone of the TMJ (Temporo-Mandibular Joint) and when enough tension is placed on that muscle, the fossa ("socket") that the condyle ("ball") sits in can become rotated, which puts an unfavorable torque on the TMJ. Furthermore, the low lying position of the tongue against the bottom jaw tends to limit normal neck curvature and add to a forward head posture position. These conditions are highly correlated in patients with both sleep apnea and TMJ dysfunction.[half]
[/half][half]
[/half]
When a revision or tongue tie surgery is recommended is when key benefits outweigh the potential risk of the surgery. The procedure is performed for both adults and children, but the growth and development benefits are largely limited to a still-growing child. Patients with the best results are frequently committed to stretching and exercising the tongue muscle following the surgery.