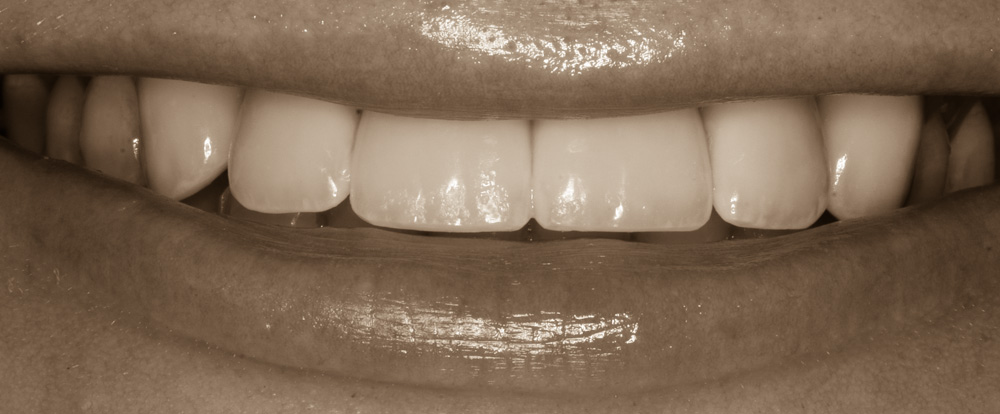 Smile restoration after trauma
Implant dentistry and pink porcelain gums create lifelike final outcome in smile restoration after trauma
This patient had been been traumatized by a baseball as a child, causing him to lose one front tooth and badly damage another.  At his initial consultation, he had a failing four-unit bridge connecting two seemingly healthy teeth to one badly damaged tooth.  X-rays revealed that the three teeth under the four unit bridge were unsalvageable – he ultimately would be missing all four front teeth.
[half]
[/half][half]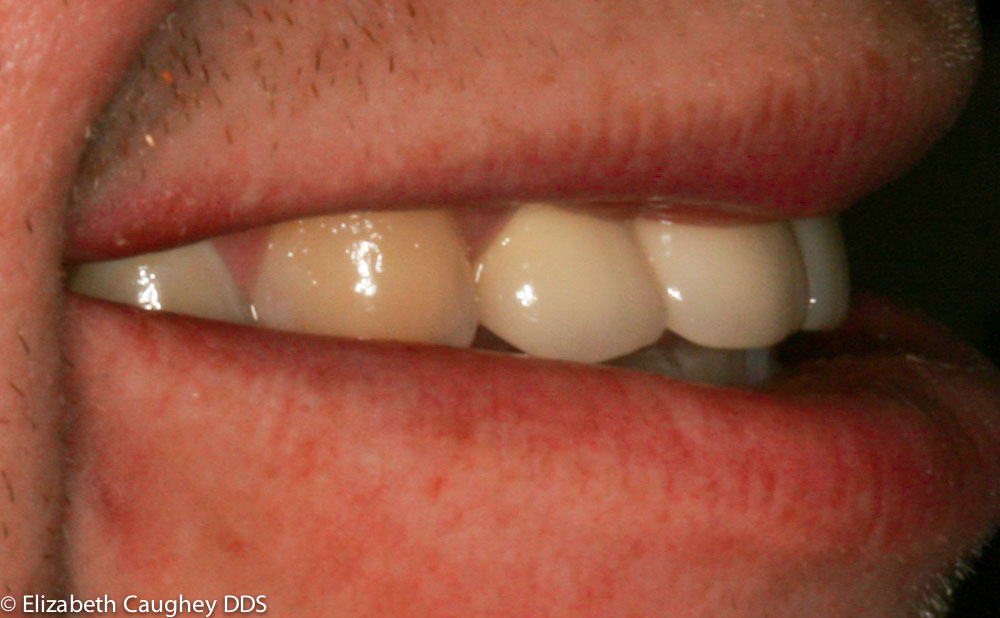 Pre-treatment photo, side.
[/half]
[half]
[/half][half]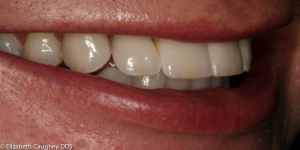 Post-treatment photo, Side.
[/half]
As a result of the trauma causing loss of his front teeth, he also lost a great deal of bone and gum under the upper lip.  On the models, the location of the implants can be seen, along with the large bony defect.  This type of smile restoration would require a multi-disciplinary approach to replace the missing teeth and other structures, as well as pink porcelain gums to conceal the gingival defect.
The diagnostic wax-up was done in two colors to better visualize the future management of the aesthetic compromise of such a large defect.  Envisioning this type of smile restoration on a model like this enhanced the patient's confidence in taking on this complex treatment plan.
[third]
[/third][third]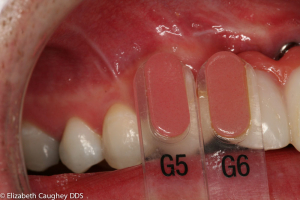 Gingival shade tabs for pink porcelain matching.
[/third][third]
[/third]
Four dental implants were placed into the upper jaw, and customized gold alloy implant-abutments were designed to correct the implant angulation.  Finally, covering the abutments are splinted implant-crowns with a combination of white porcelain and pink porcelain were used to give the illusion of natural teeth and gums.
[third]
[/third][third]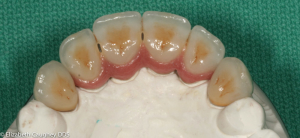 Final implant-bridge ready for insertion. Occlusal view.
[/third][third]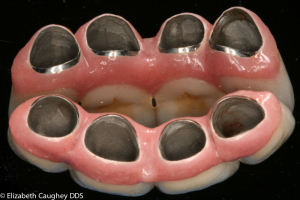 Final implant-bridge ready for insertion. Internal view.
[/third]
Note the internal lab view: pink porcelain covers the top of all four porcelain crowns, thus extending the prosthetic material into natural contours at the gum-line.
For more cases like this, see our FlickR page at https://www.flickr.com/photos/drcaughey/sets/