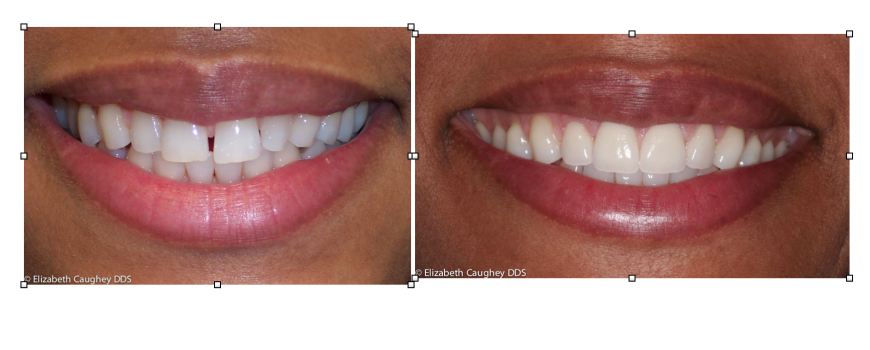 Porcelain veneers closing spaces
Cosmetic defect of peg lateral incisor and spaces solved with porcelain veneers
This busy corporate executive had a great smile, and she used it frequently with her colleagues and customers. But she was aware of the cosmetic defect in her smile of a peg lateral incisor and spaces between the teeth.  After a smile analysis, we determined that most of the elements of her smile design were in proportion to her face – the size and fullness of the lips, the amount of gum tissue displayed, and how broad the teeth filled the smile, were all in proportion.  But the front teeth themselves were undersized in proportion to the rest of her smile, and one was shaped like a peg lateral incisor.
[half]
[/half][half]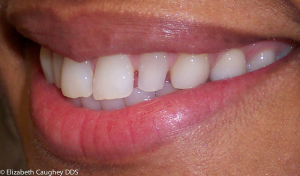 Before smile of small upper teeth and spaces, Side view.
[/half]
From her front and side views, this patient shows several small spaces (aka, diastemas), that kept her teeth from being in proportion to her other features.  Also, because the front teeth were under-sized, and one was a Peg Lateral shape, the enamel itself was thin and too translucent.
[half]
[/half][half]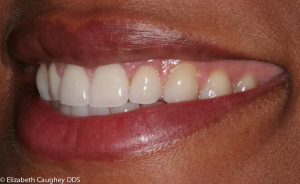 After view showing custom crafted porcelain veneers closing spaces. Side view.
[/half]
The patient elected to have her teeth restored with four hand-stacked feldspathic veneers. Her veneers were made with a custom blend of life-like creamy and bright porcelains, matching the overall original shape of her teeth with some enhancement, closing spaces and bringing her full smile to life!
For more cases like this, see our FlickR page at https://www.flickr.com/photos/drcaughey/sets/