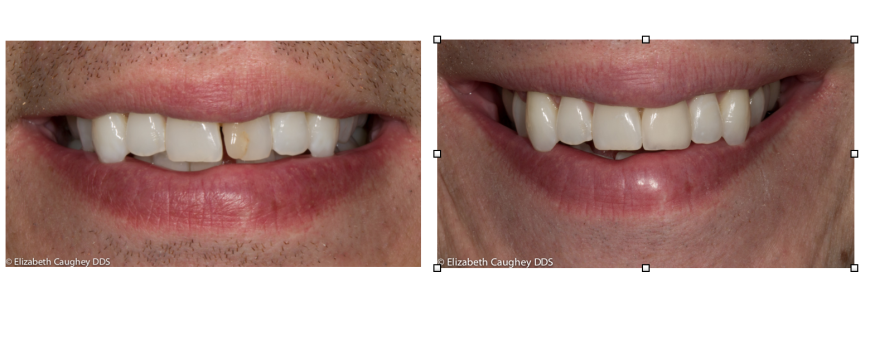 Porcelain Veneer vs Bonding
Porcelain veneer vs bonding: Qualities to consider in decision making process
This patient had chipped the front left tooth playing sports as a child.  Previously, it was conservatively repaired with resin bonding (tooth-colored plastic filling material) which had discolored, and to the patient's disappointment, three times before it had broken under the weight of his bite. A single lower front tooth occupied a more forward position than the others in the lower arch.
The patient considered his options: 1) use orthodontic braces to straighten the lower teeth, and replace the resin bonding with a fresh resin veneer, vs 2) replace the bonding with a customa porcelain veneer.
The patient was interested in the orthodontic braces but was not yet ready to have his lower teeth straightened. Instead, he chose for now to address only the top tooth with a porcelain veneer.
The ceramist created a custom feldspathic porcelain veneer to not only replace the missing tooth structure and close the space, but also to play a trick on the eye by making the tooth appear less rotated from the front.  The full frontal coverage of the porcelain veneer gives the restoration additional tooth surface-area for bonding, and strengthens the restoration against the lower front tooth.  With the added strength of the full frontal bonding of the porcelain veneer, the patient now has confidence that it will not break under the weight of his bite.
[half]
[/half][half]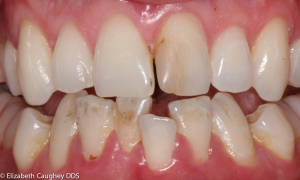 Before: Fractured tooth with discolored bonding (zoomed view)
[/half]
[half]
[/half][half]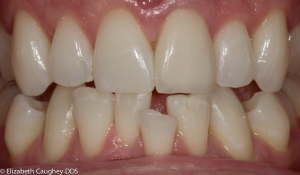 After: Single feldspathic porcelain veneer to replace fractured tooth and discolored bonding (zoomed view)
[/half]
For more cases like this, see our FlickR page at https://www.flickr.com/photos/drcaughey/sets/