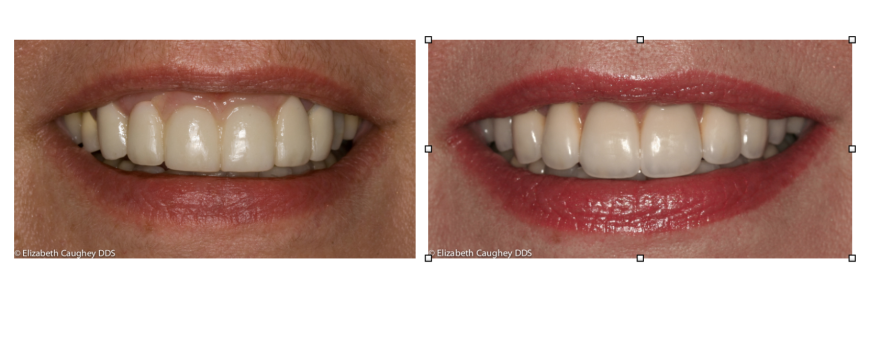 Bridge with Pink Porcelain Gums
Pink porcelain gum on bridge creates a Trompe L'Oiel effect for this gingival defect
This patient had trauma to her front two teeth as a child, which led to a series of root canal treatments, and ultimately resulted in tooth loss.  Dental implants had been initially placed in the site of the missing 2 front teeth, but the remnants of the original trauma-induced infection would claim them as well.  She lost so much of the bone and gum that would normally sit around those teeth.  As a result, the defect in the front of her mouth was substantial – typical crown and bridge dentistry would not prevent air and food from going between the bridge and the natural ridge of gum tissue.
[half]
[/half][half]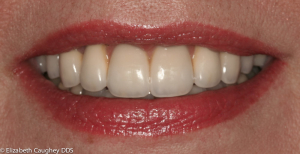 Post-treatment photo: custom porcelain bridge with pink and white porcelains.
[/half]
When she initially sought consultation, her teeth were restored with a temporary bridge with some pink plastic gum material at the top.  Her complaints were that the color of the gum tissue was too pale and that the shape of the teeth just did not look like her at all.
Communication with the ceramist at the dental laboratory was critical.  The patient brought photographs of her teeth before losing the natural teeth – from this, we were able to recreate the natural contour and anatomy of her original teeth and bring harmony between the biting edge of her front teeth and the gentle contour of the lower lip.  The pink porcelain used to camouflage the damage to the jaw bone also serves to block food when eating, and keeps a very natural look.
[half]
[/half][half]
[/half]
[half]
[/half][half]
[/half]
For more cases like this, see our FlickR page at https://www.flickr.com/photos/drcaughey/sets/